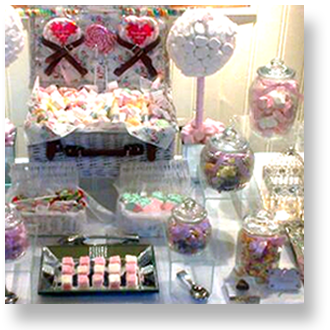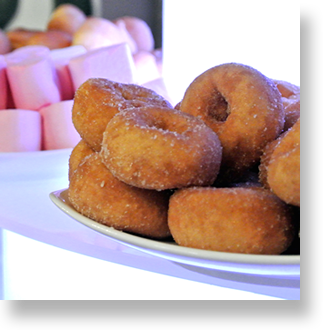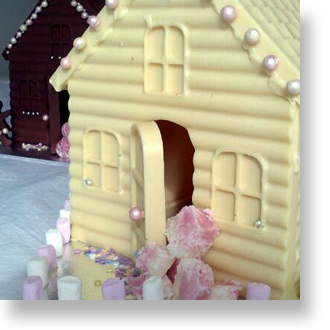 Corporate Clients
We have provided chocolate fountains for hundreds of clients amongst them many blue chip organisations such as RAC, National Grid, NHS, Birmingham University, Aston Martin, Evans Halshaw, Sandals, System C, Melbicks. Without exception all of our corporate clients were delighted with the chocolate Fountain and are more than happy to recommend us. Here's what some of them had to say:
Chocolicio
us Chocolate Fountains were the highlight of our Annual Dental Ball in January! They provided two chocolate fo
…
untains with so many tasty dips as well as a stunning candy table full of sweet treats, all of which had been designed to fit beautifully with our 'Winter Wonderland' theme. It really was a very special touch to what turned out to be a fantastic evening! Thank you so much for everything and we look forward to working with you again in the future! – Love, BUDSS (Birmingham University Dental Students Society)
Chocolicicous Chocolate Fountains made our event 10 times better than what it already was. Gaynor was so enthusiastic about setting up such an extravagant sweets display for the University of Birmingham's Hindu Society event, where we had hundreds and hundreds of guests. She even tailored the table to our specific requests for all vegetarian sweets only. Her attention to detail on the display as well as her friendly manner encouraged all our guests to visit her table, and there were many moments in the night where people were queuing up just to make sure they got to have some! I would not think twice to recommend her to anyone. Thank you so much, Chocolicious Chocolate Fountains and an extra special thank you to Gaynor for her dedication to 'Roshni 2016'. – University of Birmingham Hindu Society
After the introduction of a new contract it was time to thank everyone for their help through a very difficult time so we called upon Chocolicious Chocolate Fountains,who provided us with just what we were looking for.The Chocolate Fountain definately gave our office a sparkle and the selection of dips was just right for capturing everyones taste buds.Overall they were fantastic and we will definately be using them again in the future.
Hello Gaynor, Just wanted to say a huge thank you for the marshmallow trees you supplied as centrepieces on Saturday for our company Awards Evening. They were the talk of the night and not much left at the end! Thanks again for such a professional service.
We at Melbicks garden Centre love your fabulous chocolate fountain so much that we have invited you back again for the christmas season.Its lovely to see the children walk around the centre with big chocolate smiles! The presentation of the tempting dips is always second to none, and I would have no hesitation in recommending their services to both corporate and private customers.
We recently hired Chocolicious Chocolate Fountains for an event we had in our car showroom in Wolverhampton. We were amazed at how big the fountain was and how fantastic it looked with the surrounds and the dips.The chocolate itself was delicious and furthermore Paul who operated the fountain was very helpfull and friendly throughout the evening. We would like to hire them every week!
Private Clients
The majority of our bookings are for weddings and birthday parties. We can honestly say we have yet to meet a dissatisfied customer! Here is just a sample of what they had to say:
Can not thank you enough for the beautiful sweet table and fantastic chocolate fountain that you provided for our daughters christening. Everyone loved it and commented on her lovely and professional you were!!
Thank you for making our wedding reception night special. The chocolate fountain and sweet table where amazing and tasted even better !!!  All our guest loved it and commented how great it was. We thank you for all your hard work it was amazing we loved it. You are very professional and it made a great atmosphere to the reception . We loved it !!!  and we will highly recommend you to everyone . Thank you xxx
This Company came to my son's school on Friday, a treat provided by our PTA for Year 6 children to celebrate the end of SAT's week.
Gaynor was very helpful when booking, and Paul was brilliant with the children. They catered for 90 children (plus a few adults!) and the last child had the same choice of goodies as the first child.
Would totally recommend x
We were extremely pleased with the chocolate fountain that you supplied at our summer party. All our guests commented on how spectacular the fountain and display looked and what a high quality and plentiful supply of dips there were. The area was continuously kept clean and the operator was very freindly and helpful towards our guests.We would definately recommend you to anyone who was considering having a chocolate fountain.
I was very happy with the service you offered when I hired your chocolate fountain for my party. Paul arrived early to set up the equipment and by the time my guests had arrived the fountain was oozing with soft milky chocolate, the dips were plentifull and fresh. The whole evening was a great success and I know most people made several trips to the fountain. The equipment was taken down without anyone being disturbed and the whole operation was very slick and professional.
Hi Gaynor, Just wanted to say thank you so much for the fantastic job you did. People commented that it looked like a sweetie arrangement in Harrods. We had so many compliments and the venue took photos as they thought it was amazing. Its Millie's birthday in October so I will be in touch to book something for her, once again, thank you. It made the christening really special. I will definitely spread the word.
Kind Regards,
Can I say a big thank you for making my son's christening so special with the sweet table and chocolate fountain. The guests are still talking about it now. The children loved it and the adults even more so. I have had a few people contact me asking for your number, which I have passed on , I have the photos back already and the table looks amazing. Once again, thank you so much for a beautiful addition to the day, I have a friend who is christening her baby in May and she will be contacting you soon.